BINGO mini ECO boat model
Mini ECO would actually be a competition category, but the Bingo was basically constructed for spare-time fun and in the inexpensive size of the motor series 400. The "pocketmodel" can reach a surprising speed with the highest stability. Its design makes it possible that it immediately straightens up at the biggest waves or at crashes.
Hydrodynamically filed, driving gear technically brought to perfection and skilled craft of best production-quality this is Toys'Port BINGO!

This whizzer is made of fiberglass. The rudder and the shaft, and also the motor, which is equipped with a round mini- controller, are fixed to the stabile frames of fiberglass. You can always easyly build or assemble the battery and the remote control into the spacious inside-space.
You can bond the deckbonnet with waterproof transparent adhesive tape (Tesa) and let's go!

Construction plan, instruction, boat pedestal, small parts are enclosed.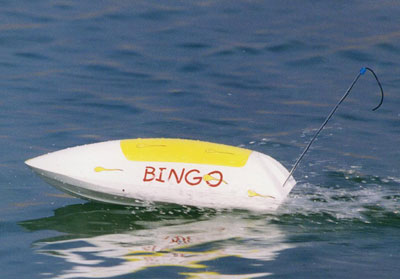 Color variation:


·

white with yellow cabin (sperm),.


·

yellow with red cabin,


·

red-black with CFK-cabin,


·

neon-orange with blue cabin,


·

neon-pink with blue cabin,


·

neon-green with CFK-cabin


·

(in all other colors on wish)
| | |
| --- | --- |
| | Price: |
| Bingo ready to run | 127 EUR |
| Without motor and controller | 85 EUR |
| Boat hull | 43 EUR |
| Deck | 5 EUR |
| Shaft | 3,5 EUR |
| Rudder | 5 EUR |
| Mini controller | 25 EUR |
| Propeller | 10 EUR |
| | |
| --- | --- |
| | . |
| Lenght: | 360 mm |
| Width: | 130 mm |
| Weight: | 0,5 Kg |
| Motor: | 7,2V Speed or 28x35mm 2200Kv Brushless |
| Cells: | |
| Propeller: | |
| Speed: | cca 30 km/h |
Toys'Port
·
Rákóczi út 83. H-2131 Göd
·
Europa
·
Tel/Fax:+36 27 330 938
·
info@toys-port.hu